TVA's Guntersville Dam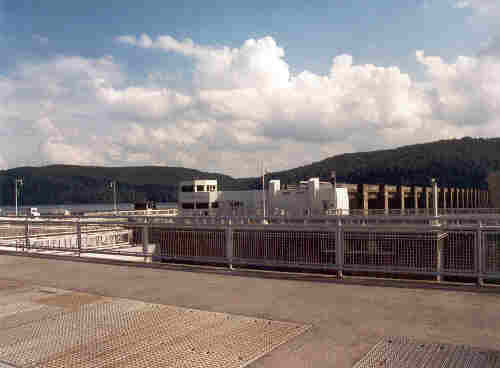 About 7 miles northwest of Guntersville, AL, is Guntersville Dam. This dam is listed as 94 feet high and 3,979 feet long, and was completed in 1939. Hydro-electric capacity is given as 114 Megawatts. As at Nickajack, there is no bridge over the river associated with this dam.
A view of the back of the dam, with a crane parked behind the power house.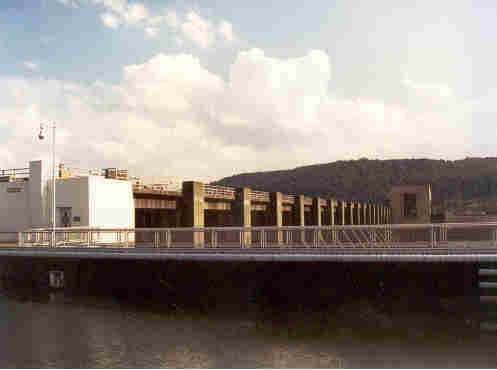 The lockmaster led us to believe that the walkway over the floodgates was usually open to the public, but was closed for maintenance when we were there. Just our luck!
A look through on of the floodgate openings. I'm not sure why we don't have a better shot of the front of the dam. If memory serves, this was one of the first dams we collected. We were on our way to the Huntsville Hamfest for the first time (by the wrong route, but that's another story!) when we drove by the sign for the development. We hung a "uwey", went back and took some pictures, and have been collecting dams ever since! So, maybe it was inexperience. Good excuse to go back!
Guntersville has 2 locks: the original 60x360 foot lock built with the dam, and the newer 110x600 foot, opened in 1965. The nominal lift here is 39 feet.
The walkway between the two locks.
A nice reflection of the clouds in the water of the small lock.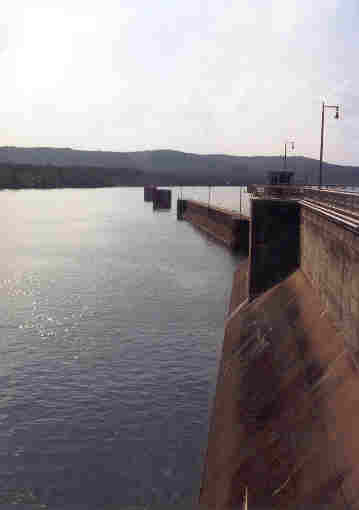 The main lock exiting to the river channel.