James V. Barker, Sr. was born June 21, 1923, in Chattanooga, TN. Flarie, aka Flo, was born somewhere in Sequatchie County, TN, on September 10, 1921. They got together in the 1940's in Chattanooga, TN, eventually settling in Daisy, TN, soon to become half of Soddy-Daisy, just north of Red Bank, which is just north of Chattanooga. They had four kids: Jane, Jim Jr., Jan, and Tracy. Jim Sr. passed away in 1992, and Flo is now confined to a nursing home near Soddy-Daisy, but the kids get together whenever they can. Jim and his wife Marquita decided they would host a Thanksgiving Dinner for 2001, so on Saturday, November 17, pretty much the whole extended family invaded Jim and Marquita's place in Soddy-Daisy!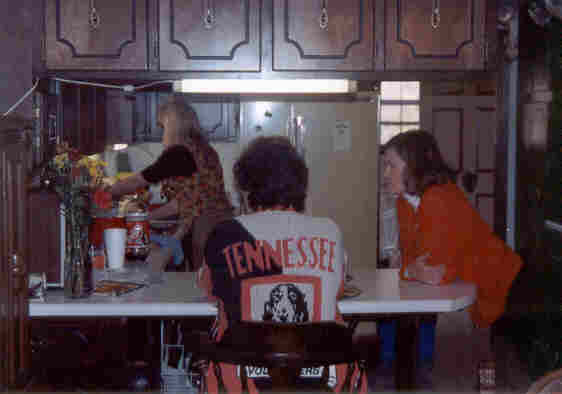 Confined to the kitchen (this is actually the only shot I got of Marquita, or Kelly) were Marquita, family friend Joanna (back to the camera... guess who she's pulling for!!), and Tracy's wife Kelly.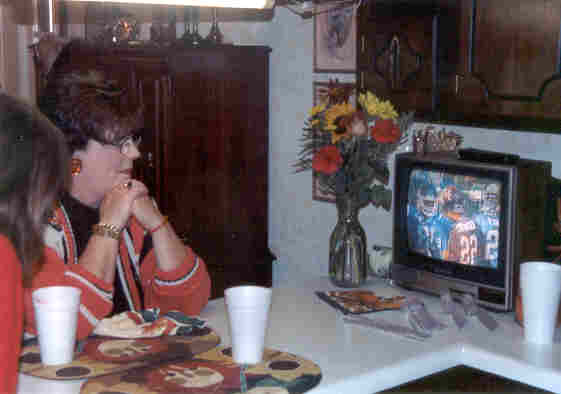 Actually, this was serious business. Tennessee was playing Kentucky that day, and they were LOSING! As you can see from the TV, this was FOOTBALL, not Basketball!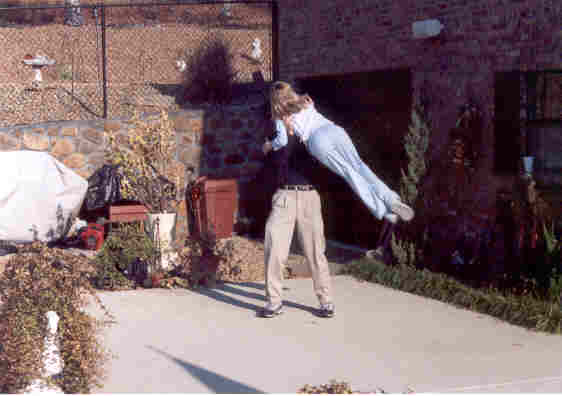 Meanwhile, down at the pool (yes, in November!), Hannah and dad Tracy demonstrate some break dancing... you know, the kind where you can break something!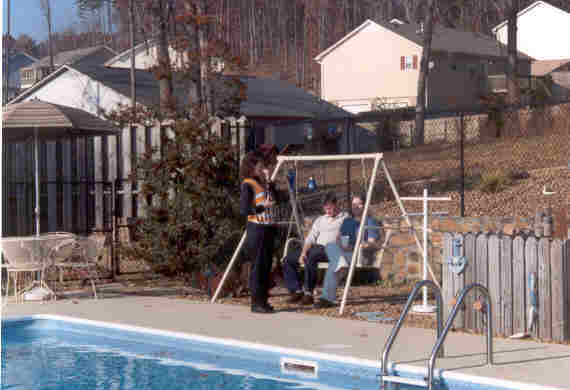 Catching up with what's been going on.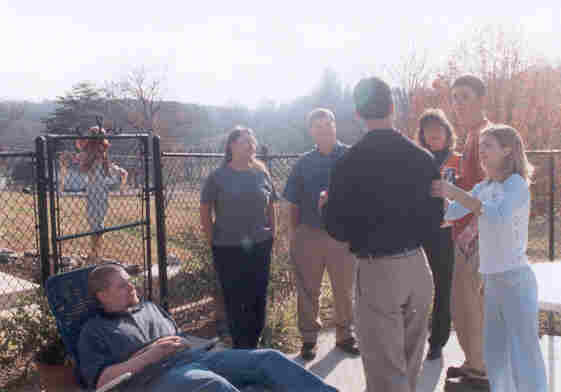 More gossiping...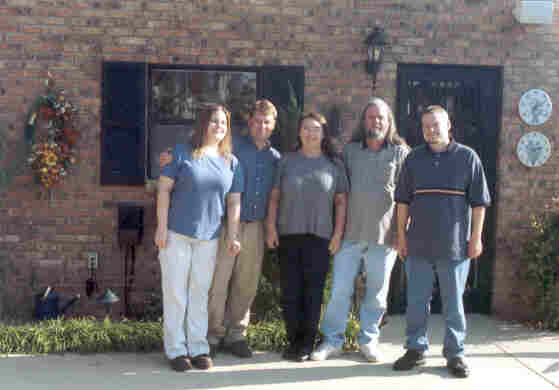 A Jan Family Portrait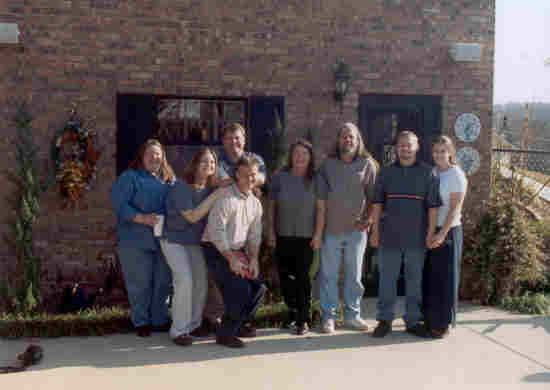 With the SOs...
Michael and Tracy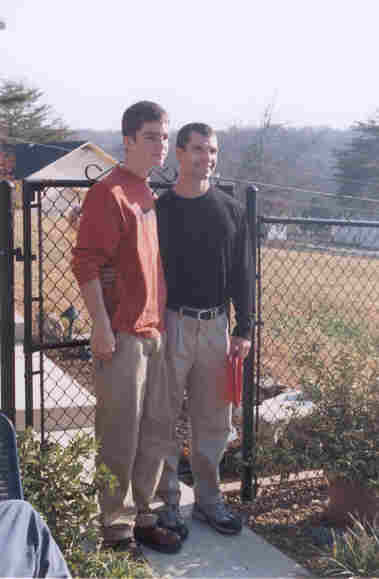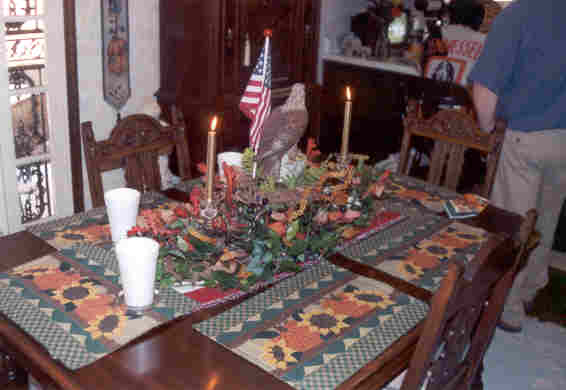 In between the football, gossip, and picture taking, we managed to eat a very good meal. Here is what was left of the table when we finished. Nice Job, Marquita!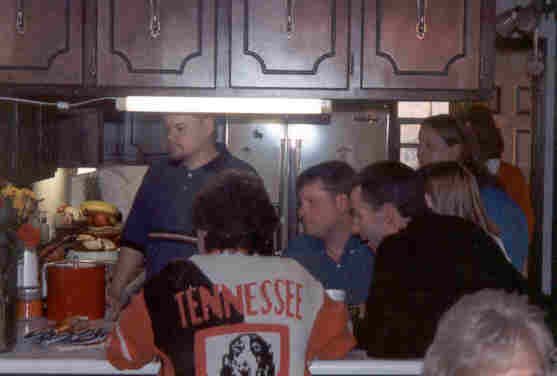 Meanwhile, back at the ballgame, things are getting intense! Tennessee is trying to make a comeback. They did eventually, winning 38-35 (a 73 point game?? Maybe it WAS basketball!). It looks like I managed to get the top of Marquita's head here, and I think that is Kelly in the very back...
Tired of all the commotion, the other residents went and hid in the bedroom. Here are Little Bit and Fat Cat (guess which is which!).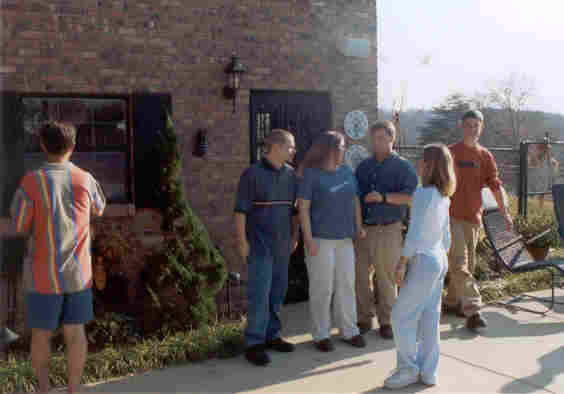 As things wind down, here are the grandkids, with Uncle Jim "gittin' down" as he entertains us (and the neighborhood!) with his (very nice) stereo system.
All in all, a very enjoyable day. Lets do it again! (Maybe somewhere else, so Marquita can join in the festivities!)