The Kelly Family Reunion
Revised (Finally!) March 28, 2003
Someday I ought to research this and preserve it in case any of our kids get interested in the geneology thing, but for now I am just operating from my faulty memory (and some email from family). Ruth Amelia Moore was born somewhere around 1900, I don't remember where. She married a Charlton Kelly and had three sons, before her husband, who was apparently quite the scoundrel, took off and died soon after. So, "Grandma", as I affectionately referred to her then and now, went to work to raise three boys. She ended up in the restaurant business, operating "The White House Restaurant" in Sylvania, Ga. For a period of several summers while I was growing up, I rode the "Nancy Hanks" on the Central of Georgia Railroad from Atlanta to Millen, Ga. where Uncle Jim (usually) would pick me up and ferry me to Sylvania, about 30 miles away. There I would stay until time for school to start again. I was Grandma's favorite grandchild; Aunt Jessie said it was because I worked my butt off in the restaurant. I don't recall working that much, but that is where I learned about working and the rewards of financial independence. I used to have a fantastic comic book collection that I financed myself: I bought "X-Men" #1 off the stand! I wished I had kept them, but as they say, hindsight is 20/20. Grandma continued to run the restaurant for thirty years, before she finally sold it and retired. With nothing to do, she died within a couple of years in 1973.
The three sons were Charles, Jim, and Mike (my dad). All three did stints in the Military. Charles was career army, picking up a purple heart in Germany in World War II, and was close to retirement when he was killed in action in Viet Nam, 1 July 1964. He was posthumously awarded the Silver Star... at the time they did not give the Medal of Honor to non-combat personnel. He flew a medevac helicopter, and has been described as "the man who was Dustoff," the Dustoff operations being credited with saving many lives. His successor, Maj. Pat Brady, was eventually awarded the Medal of Honor in 1968. Uncle Charles' family had settled in Augusta when he was stationed at Fort Gordon, and they are still there today. Jim was in the army for a while but never saw action as I recall. He ended up working for and retiring from the Postal Service, and never left Sylvania. He helped me out when I discovered stamp collecting, and convinced me that I needed a radial arm saw (I have no idea what led up to that). Dad Mike was in the Marines, and according to him, had the time of his life. He was in between World War II and Korea, so he never saw action either. He went into education, and was a high school football coach during most of my formative years. So, we bounced around the state a bit before settling in where I consider home, in a community called Cedar Grove, about 15 miles west of LaFayette, Ga. and about 20 miles south of Chattanooga, Tn. My brother Lee is still there and works for the State of Ga. Forestry Service. Brother Jimmy and I both ended up in Lawrenceville, Ga., he as a Gwinnett County cop, and me programming computers and/or microprocessors for one of the local high-tech companies.
I have never figured this out, but for some reason Mike started spelling the family name with an extra 'e', as in Kelley. The rest of the family spells it Kelly, and I have deferred to the majority on this page. (I answer to either one!) Anyway, in the summer of 1996, we decided it was high time that we got together for a family reunion.
The Mike branch of the family staged in Augusta the night before, where we met up with the Charles branch. We then drove to Sylvania the next day, where we met the Jim branch for lunch at a restaurant, whose name I can't remember, that was one of Grandma's competitors and was still in business. It was a time for some bittersweet memories, as probably most reunions are. And also a time for a passle of new Kellys to get acquainted!
A bunch of Kellys chowing down and jawing, trying to make up for lost time!
After lunch, we went to Mrs. Hillis' house on South Main street in Sylvania. Mrs. Hillis was Aunt Jessie's mother amd was no longer living here, living instead with another daughter because of her care requirements. The family kept the house until after Mrs. Hillis died, a couple of years after this. As you can see, this was a beautiful old house with a wrap around porch. I loved this house as much as any I ever actually lived in, but I only spent the night here a couple of times. I did spend a lot of pleasant summer afternoons here with relatives and almost relatives. I can still hear Aunt Jessie telling me to get off the floor (where I was laying in a prone position) during the frequent afternoon thunderstorms. This was a safety precaution that probably sparked my interest in weather and eventually in getting my spotter's card, along with Jan when we got involved in ARES (Amateur Radio Emergency Services).
This is a view of the back of the house. That clump of ivy below the screened porch covers a water well that was used before the house got "city water".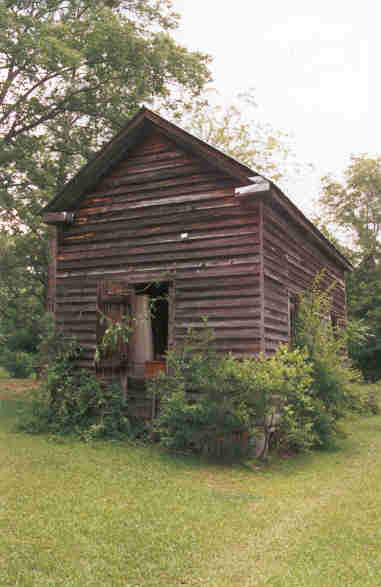 Behind the house, this shanty used to serve as servant's quarters. Carol and Babs (sorry, I mean Barbara) said they remember someone actually living there... that was before I remember seeing the place. I couldn't believe the place was still there!
Carol, Barbara and I are all close to the same age, so we were the "Three Musketeers" whenever we got together. Here we are reunited in "our" club house, as we considered the old shanty. I learned the fine art of "dumpster diving" in the dumpsters behind the restaurant, and a lot of our resulting treasures were stashed here. Alas, they were all gone this time. That's Carol on the left, Barbara on the right. I'm the ugly one!
This is the Charles Kelly branch of the family. Charles was the oldest of the three. All these folks live in or near Augusta, and they won the "population explosion" award! That is cousin Charles Jr. pointing at the camera... I think that is his wife standing next to him. Cousin Carol's husband Mike is kneeling behind Barbara, and Barbara's husband Bruce is behind him in the dark shirt. I'm not even going to try to sort out the kids! Aunt Jessie is at the lower left.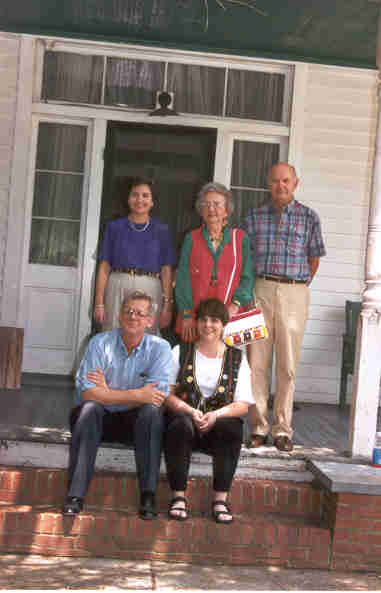 The Jim Kelly branch. They won the "affordable Christmas" award! Cousin Patsy, behind her husband Bruce, lives with her husband and daughter Laura in Stockbridge, GA. Their son Jeff was unable to attend. Uncle Jim and Aunt Dorothy still live in Sylvania.
The Mike Kell(e)y branch. Mike was the youngest of the three. Most of us are in Gwinnett County now. We didn't miss the population explosion award by much! There should have been two more, but son Brian and his wife were not able to join us. Brother Jimmy is standing on the right, just behind his wife Karen. Brother Lee and his wife Cynthia are just to the left of Jimmy, and that's Jan and me to the left of dear old Dad, AKA Mike. (My brothers and I used to call him Mike when we were very young... I don't remember why.) That's Mom Carolyn seated at the left, with a herd of kids between her and Karen.
Here is almost everyone... there were two or three of us taking pictures.
Here are Jan and I in front of the building that used to be the White House Restaurant. It is now a lawyer's office (say it ain't so!). I do remember the name Hollingsworth... Clyde Hollingsworth was the publisher of the Sylvania Telephone, a weekly newspaper, when I met him. Later his son Dixon, who took over when Clyde retired, taught me how to use a slide rule, and sparked my interest in Ham Radio when he gave me an old Heathkit AR-3 short wave radio. I sold that radio to a friend when I upgraded to a Hallicrafters SX-99, but I now sorely wish I had kept it. Had I stayed in Sylvania to go to school, as we considered once, no doubt he would have been the "elmer" to help me get my license back in the sixties. Instead it was 1994 before I finally got my license. Uncle Jim told me that Dixon had passed on sometime prior to this. This was the most bitter part of the "bittersweet" experience... most of my friends from this period were not my age but much older than me, local business folks around Sylvania that were customers of Grandma's. I remember fondly the "coffee crowd" that would come to the restaurant sometime after the breakfast rush, who would swap lies amongst themselves and teach me things about their business. I also remember how they used to "match" coin tosses to see who would pay for the coffee (a whopping 10 cents a cup), and how mad Grandma got at me the one day I participated... and lost! I had to cough up about a buck, but to put things in perspective: lunch at Grandma's cost 88 cents (85 cents plus three cents tax), and a dime was a decent tip for that! I stashed my cash in a cigar box, and what didn't go into the pinball machine or comic books was put into a savings account at the Bank of Screven County (one more thing I wish I had left alone and kept track of!).
I remember this place from the old days. It was and still is on the block just west of the restaurant site on West Ogeechee street. This place is on the street between the blocks... I forgot the name. It is across the street from where the Screven County News, another weekly newspaper and a competitor of the Sylvania Telephone, was located. I remember standing at the open window on the street (air conditioning was still a luxury at that time) and watching the Linotype operator typing in the stories, and adjusting the spacing so the columns came out even, and fixing the occasional typo, by physically inserting "blanks" and moving the molds for the individual letters around, before committing the "line of type" to the hot molten lead. All of the linotype operators I remember were regulars at the restaurant, but I can't remember any of their names. The building was still there, but boarded up and abandoned.
One gentleman I remember in particular. Grandma had this thing about animals, and she always had a pet dog with her, much to the chagrin of the local health inspector... he always put in large letters on the report "NO PETS", but as far as I know never did anything else. She used to feed birds out in front of the restaurant, and somehow ended up with a bird with a deformed wing (in bird watching circles we call the species a "little brown job" or LBJ, which means we have no idea what it was). This bird, which she named "Hoppy" for obvious reasons, used to hop around the restaurant and roost in the plants that Grandma had in the front windows. This gentleman would come in after lunch for a cup of coffee and apple pie a la mode, and Hoppy would join him, at the counter, where the guy would share a bit of pie with the bird. The health inspector would have gone nuts, but you could tell it made this guy's day! I wish I could remember his name.
The one time I remember Grandma actually closing the restaurant and taking a couple of days vacation was when she heard a rumor that her dog Red (the first one that I remember) had been seen in a small town in northern Florida. Red had just disappeared one day, and I don't think she ever got over it. Dad came down and we drove to Jekyl Island for one night, then Jacksonville Beach for the next night, and finally to Daytona Beach for the last night. From Daytona we went to the small town (Wildwood, I think it was) and then all the way back to Sylvania... she had been away from the restaurant too long! I remember some of her customer's remarking incredulously about "Ruth took a vacation??!" when we got back. While she used to close up for a couple of hours on Sunday afternoon for a Sunday drive, I don't remember her ever closing the place for that length of time.
The corner of North Main and West Ogeechee streets. The Allied Department Store was there in the old days... in the real old days that corner was the site of the original White House Restaurant. That building and most of the rest of the block was destroyed in a natural gas explosion resulting from a gas leak from a truck parked behind the gas company building, located where the second retaurant was. There was a mural of an aerial photograph of the "original" block on the wall of the Bank of Screven County, which was located just out of view on the right of this image (I don't remember if it was still there... like I said, faulty memory!) If I remember right, most of the family, except us, were there when it happened. Miraculously, no one was seriously hurt. I have only vague memories of that building... there were some boarding rooms above the restaurant and I remember spending the night there once. The Sealtest Ice Cream sign is over what was once the "Gamecock Roost", a soda shop where I bought most of my comic books and learned how to play a pinball machine (the Gamecocks were the local high school sports teams). The tall building next to that was the movie theater (one screen!). They used to play two movies a week, except when a "blockbuster" would run for a whole week... I remember watching "The Shaggy Dog" there for five consecutive nights. That cost me an entire buck twenty-five... 25 cents a night! Bob Howard's jewelry store was located between the soda shop and the department store. I found a brand new watch while dumpster diving behind his store once... apparently it had gotten brushed off a counter into the trash can by accident. I took it back to him, and he later rewarded me by teaching me to fix up an old watch out of his junk box: he supplied parts, tools, and tutoring, and gave me the finished, functional watch! Yet another thing I wish I had kept track of...

We keep saying we need to do this again... what about it, folks? I apologize to those whose names I forgot, but I am doing this about five years after the fact, and I can't remember my own name half the time! So, please correct my feeble memory by sending email to the webmaster

.

Second Thoughts: I finally got around to updating this page after cousin Patsy emailed me with some corrections, most importantly her husband's name. I updated the page on March 28, 2003, the day after Aunt Jessie's funeral: she passed away Monday, March 24. I had said to Jan just a couple of months earlier that I needed to make an effort to talk to Aunt Jessie about the family tree we are trying to put together. You think there is always time...