In Memory of the Wonder Dog
Sunshine, 1992-2002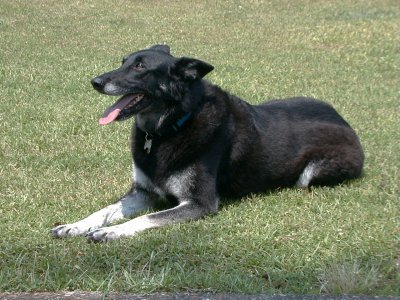 Since we are friends with Sunshine's Pet People (Cindy and Chris), we had heard about and had followed this story, when all of a sudden it became big news! Long story short, Sunshine had required a pacemaker implant several years ago, and the battery was failing. The UGA Vet Hospital (the same place that gave us a couple of more years of Berf's company) depends on donations of the pacemakers for use in pets that need them. A woman who had just passed away had asked that her recently implanted pacemaker be donated to the Vet Hospital (regulations prevent them from being re-used in humans) just in time to save Sunshine. The hospital decided to take advantage of the publicity this situation would generate to publicize the need for pacemakers for animals. That effort culminated with a story on ABC Nightly News.
Alas, as we know all too well, pets with medical conditions like this are living on borrowed time. One evening, during a severe thunderstorm, Sunshine starting showing symptoms that the pacemaker was not functioning properly. Sunshine, like many dogs, was terrified of thunderstorms, and Chris thinks that maybe the resulting stress caused the disconnection of the pacemaker, or other malfunction. They got her to the UGA Vet Hospital, but could not get in touch with the pacemaker manufacturer's rep, who may or may not have been able to help. The odds of her surviving the night were slim, the odds of surviving without brain or organ damage even slimmer. Faced with that, Cindy and Chris made the heartbreaking decision to end her suffering. At 9:39 PM, July 1, 2002, Sunshine breathed her last.
We wish to express our deepest sympathy and condolances to Cindy and Chris. If possible, they are going to see that the pacemaker is passed on to another needy pet. But Sunshine did her part in getting the message to the world about pets with special medical needs.
Farewell, Sunshine, may you rest in peace. You will be greatly missed.
Say hello to Berf for us...