Fort Barrancas, Pensacola, Florida
On the grounds of NAS Pensacola you will find Fort Barrancas, one of a series of coastal forts built in the early 1800s. This fort, along with Fort Pickens and Fort McRae, protected the strategically vital Pensacola Bay. This fort has been beautifully restored and is operated by the National Park Service under an arrangement with the US Navy. Across the bay, Fort Pickens is also operated by the NPS, as part of the Gulf Islands National Seashore. Here we are starting a guded tour of the fort, led by Park Service Ranger Becky (I forgot her last name), in the center with the hat.
Here is Jan in the "powder room"... kind of takes on a whole new meaning, doesn't it?? The magazines were usually wood lined, and other steps were taken to keep the gunpowder from getting wet and caked.
The entrance to the magazine.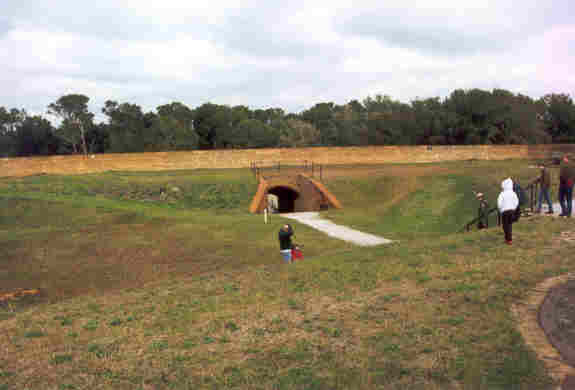 I think this is an inside view of the "sally port", or main entrance.
This structure was actually part of earlier fortifications, built by the Spanish on the same site. Ranger Becky was explaining some of the history, and was talking fast because the wind was blowing and it was cold!
A view of the outside walls of the business side of the fort.
Barrancas did not seem to be as well protected from all sides as some of the other forts. So, they built this "Advanced Redoubt" to the north of Barrancas to protect the fort from an overland attack.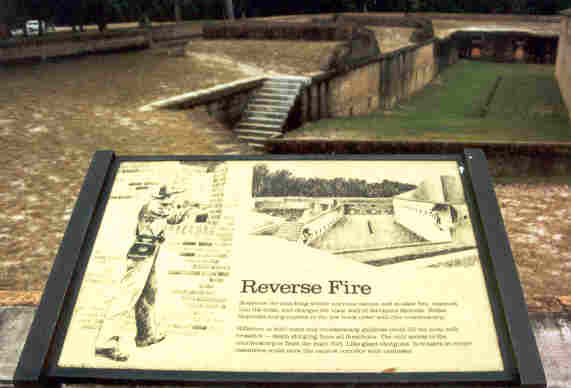 According to this plaque, the idea was to get the bad guys down into this trench, where you had riflemen on both sides, and shotgun-like cannon at both ends. We wondered if the enemy was ever that cooperative...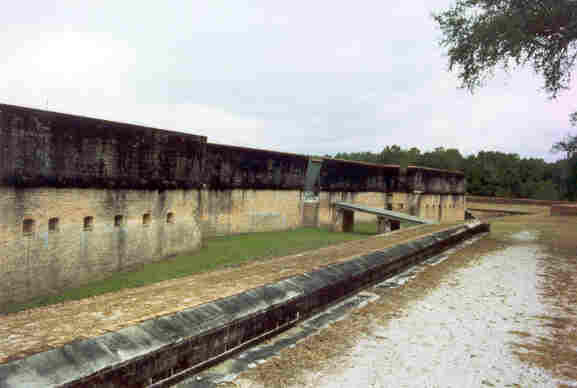 All in all, one of the more curious examples of fortifications we have seen.