Fort Pickens, Pensacola, Florida
Fort Pickens was built on Santa Rosa Island, guarding the east side of the entrance to Pensacola Bay. The west entrance was covered by Fort McRee, with Fort Barrancas covering the center from the mainland. Fort Barrancas and Fort Pickens are operated by the National Park Service as part of the Gulf Islands National Seashore. Fort McRee was heavily damaged during the Civil War, and finished off by a hurricane in the early 1900s. The Gulf Islands are slowly creeping west, and the site of Fort McRee is now completely underwater.
Fort Pickens was one of two forts in the South that stayed with the Union at the beginning of the secessions and the start of the Civil War. The other was Fort Sumter. In 1861, the two sides traded artillery fire several times. In 1862 the Confederates abandoned Pensacola, and the Union retook Fort Barrancas. Fort McRee was so heavily damaged it was abondoned. In 1899, a fire started in a warehouse, and reached a magazine where 8,000 pounds of gunpowder were stored. The resulting explosion took out this corner, and some of the debris landed at Fort Barrancas, 1 1/2 miles away!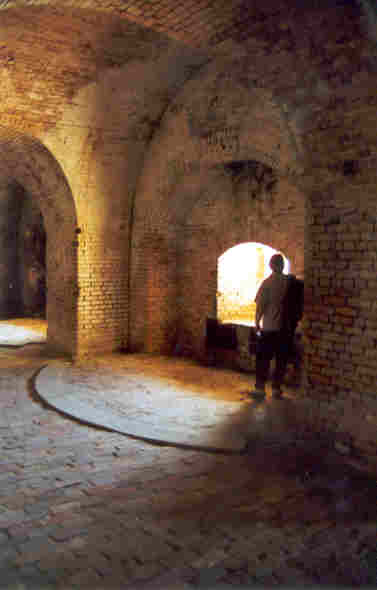 One of the interior gun emplacements
An upper gun emplacement.
One of the emplacements for "disappearing rifles", installed as part of the coastal defenses in the early 1900s.
A shot of the Pensacola Lighthouse, across the bay.
More World War I era defenses. Notice we are in our shirtsleeves here (this was around Christmas 1997). Compare that to a day or two later when we went to Fort Barrancas and froze our behinds off!
An observation tower, closed to the public (Shucks!).