Everybody likes lighthouses...who could resist the history, charm, and beauty of any lighthouse? And as hams, how could we resist visiting such a terrific antenna site??
This is the Sullivan's Island light, one of the newest and most modern lighthouses on the Atlantic Coast, near Charleston, SC. It has an elevator in addition to the usual staircase, but, unfortunately, it is off limits to the public (a CIA listening post, perhaps??).
This is the St. Simons Lighthouse, on St. Simons Island, GA. The Georgia Coast ordinarily has no surf to speak of, but as you can see, it was pretty active when this picture was taken. We were sharing a condo with one of Pat's co-workers on this trip, in late summer, I think, with Hurricane Jerry (?) not too far off in the Atlantic! It rained the whole time we were there, until Sunday, which dawned bright and beautiful... when it was time to go home!
Close to Fort Barancas, on the grounds of NAS Pensacola, is the Pensacola Light. At the time we were there, this light was still operated by the Coast Guard, and was not open to the public. Park Ranger Becky told us that the Coast Guard was in the process of transferring the lighthouse to the Park Service, so by now it may be open.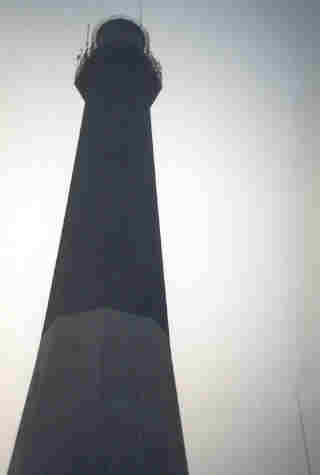 We've been to Tybee Island/Savannah Beach a few times, so we are sure we have a better shot than this pathetic image of the Tybee Island Lighthouse. But until we find it, this will have to do.
This was on display at Fort Pickens (I think). The is "Third Order Fresnel" lens used in most "modern" lighthouses. Sure wouldn't want to lug this up the stairs!