The Black Mesa and Lake Powell Railroad
Jan had come across some interesting "stuff" to check out during WestQuest II, one of which was this railroad (we ARE budding railfans, sometimes at least). This railroad is a bit unusual in a couple of aspects. One, it is completely "landlocked"; that is, not connected to any other rails. Two, it is electric. While most modern trains are electric in a sense, the engines that power them are basically big diesel generators driving electric motors that actually turn the wheels. But the BMLP skips the diesel: the engines are powered from an overhead 50 Kilovolt power line.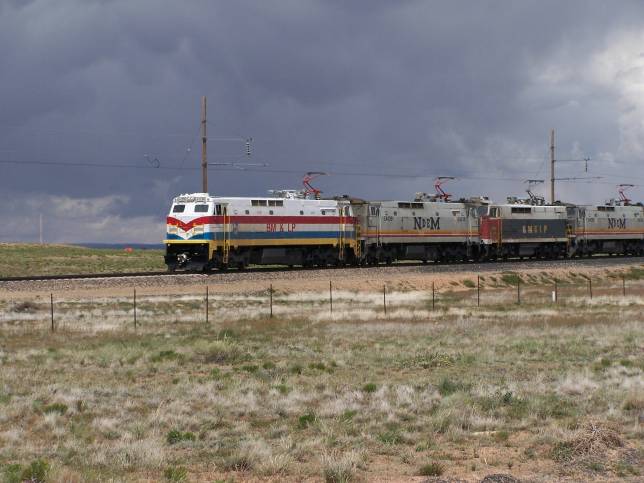 We didn't have to make a special trip to see the railroad... our route took us right by it, twice. The first time we were lucky enough to catch it in action! This shot shows the four engines with three different color schemes. The lead engine is (apparently) painted with new colors. The second and last engines still have the colors of the Mexican railroad they were acquired from, and the third engine has the old BMLP scheme that we have seen in other pictures on the web. Folks that know identified these engines as General Electric E60.
This view shows a closeup of one of the Mexican engines, along with the "pantograph" that connects with the overhead power line. One of the modifications that was required was to adapt the engines for 50 Kilovolt operation: apparently the original Mexican configuration was for 25 Kilovolts. Engines similar to these are also used by Amtrak and some othe commuter lines.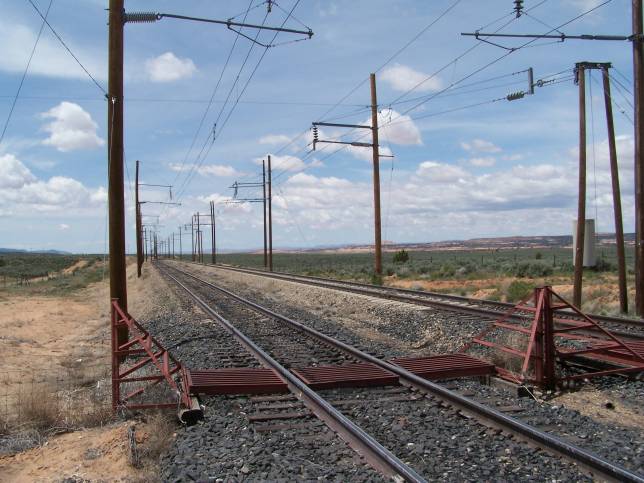 One huge avantage of the overhead power line: no diesel required! Remember, this railroad is "landlocked", so all fuel wouuld have to be trucked in (which would take even more fuel!). This view shows a tensioning arrangement, at one end of the line where the line splits to form a big loop. It also shows a cattle guard to keep livestock where they are supposed to be!
So what do you do with your own private railroad? And where does the electricity to power it come from?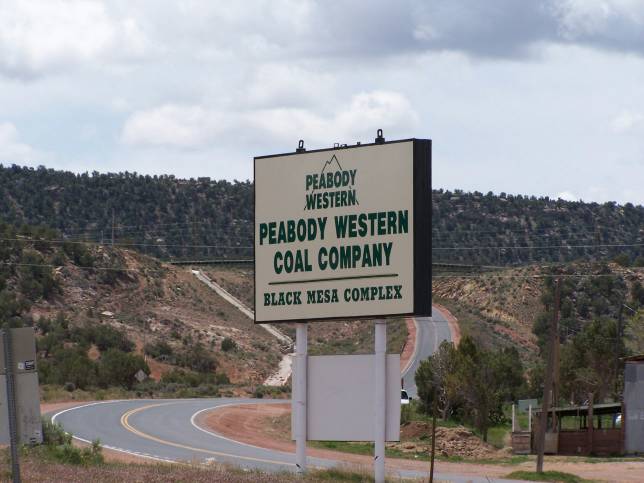 The BMLP railroad exists solely to haul coal from the Peabody Western Black Mesa Coal Mine, near Kayenta, AZ, some 73 miles to ...
... the Navajo Genteration Station, near Page, AZ. The powerplant is a three unit, 2400 Megawatt plant, on Lake Powell. Both of these facilities are on the Navajo Indian Reservation in Northern Arizona.
One question comes to mind: if the railroad is not connected to other railroads, how did the rolling stock get delivered? Check this out!