Brasstown Bald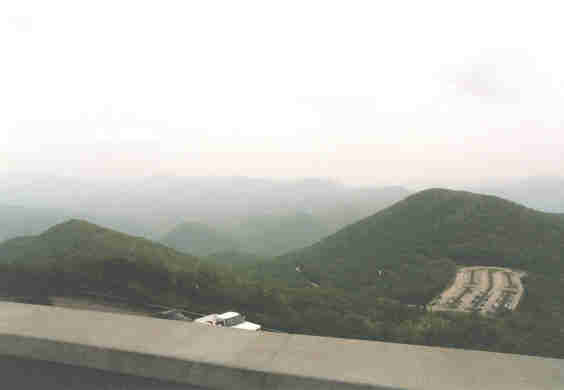 Brasstown Bald is the highest point in the State of Georgia, at 4,784 feet. This is actually a US Forest Service (USFS) installation. This is a view from the Visitor's Center on the summit, overlooking the parking lot about 500 feet below. As you can see, the visibility was pretty lousy the day we were there. In fact, as close as it is to Atlanta, visibility is lousy there most days!
This used to be a USFS Lookout Tower. It is off limits to everyone, including employees and volunteers, because a lot of the structure is wood and in bad shape (so FIX IT already!). Also note the antennas on the roof of the adjoining room. This is obviously a good spot for some government repeaters, and there was a couple of microwave dishes just out of sight here. The guy on duty there let us peek into the radio room... we don't think there were any ham repeaters there.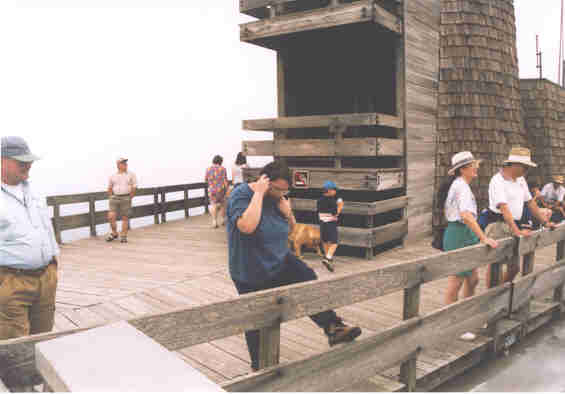 But we didn't let that stop us. Here is Jan talking to Joe, AD4PZ, back home in Lawrenceville, via the Gwinnett Amateur Radio Society (GARS) repeater on 147.075 MHz, also in Lawrenceville. Not bad for an HT! Joe then went out to his back porch with his HT, and they worked simplex direct. Altitude does make a difference!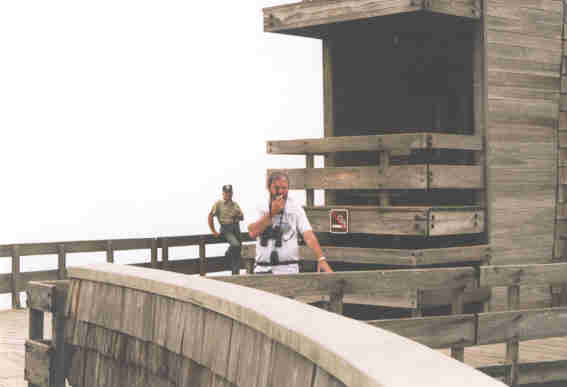 Not to be outdone, Pat gives it a try (don't remember who he was talking to). In the background is the USFS employee (actually a volunteer) who showed us around.