Tennessee's Cumberland Mountain State Park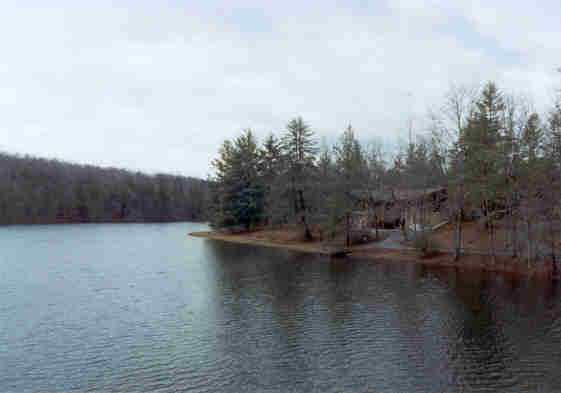 It's hard to believe, but in the early 1900s this area was more or less uninhabited. Cumberland Mountain State Park was built in the 1930s and 40s by the Civilian Conservation Corps to provide recreation for the 250 or so families that were homesteaded in this area. Less than a mile from the entrance to the park is the Tennessee Homestead Museum. We didn't get to see it this trip (this was pretty much a working trip for Rebecca and David's wedding), but we will be back, since they are getting married at the park!
The real claim to fame of this park is the largest masonry structure built by the CCC: the Byrd Creek Dam. This is a good sized dam (we are still looking for the specs) built to impound Byrd Lake for the park, and includes a bridge. No hydro-power, but there should have been. Well, it had rained the day we were there so maybe the flow was up a little, but it looked like it would have been good for a few kilowatts or so. This is a view of the "Mill Lodge", a group cabin good for 16 folks, with the dam in the background. See the Byrd Creek Dam page for some more pictures.
The park's office building is being remodeled... it looked like it had burned. They are in a temporary office in a trailer set up across the parking lot behind this building.
This is one of the "deluxe" cabins which we stayed in. They have two different flavors of "rustic" cabins, and a few duplex cabins, in addition to four more group lodges besides the aforementioned Mill Lodge. The duplexes do not have fireplaces, but all the rest do (real firewood, and its free!).
Well, we didn't get to visit the Homestead Museum, but we did get to "see" it. We took this shot of the building as we were leaving Sunday morning.