Tennessee's Edgar Evins State Park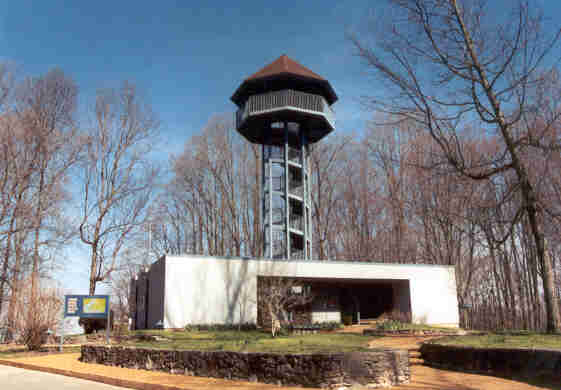 This park is located on Center Hill Lake, near Cookeville, TN. The park office has a nice observation tower...
...but you don't even need to climb it to get a very nice view of the back side of Center Hill Dam. And in the distance you can make out the cooling tower at what would have been Hartsville Nuclear Plant.
There is a marina and restaurant there, so you don't have to cook if you don't want to. The "cabins&quot are not really cabins, but rustic condos. You have a great room with kitchenette upstairs, and a bedroom with 2 full beds downstairs. The sofa is a sleeper, so you could accomodate 6 folks, but you have only the one bathroom. Still, very nice for the two of us, although Pat was disappointed that he didn't have a fireplace to play with.
Each building has 6 condos, except A, which only had four.
There are several trails in the park, but we didn't get to hike any of them, since we spent the one full day we had there questing (very successfully I might add!). See the trip report here.